Last week's post featured pumpkins.... I regret to inform you that today's post features more pumpkins! I hope you'll bear with. I didn't want anything too formal looking, but not quite prim either. Maybe this leans a bit more on the whimsical side... so here goes!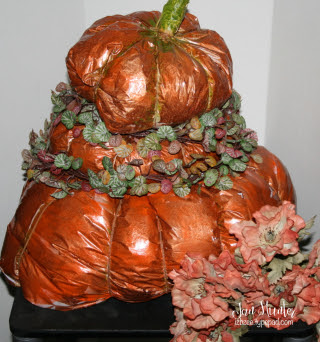 We've been shredding a bunch of old paperwork the past several months. This last batch of shreds didn't make it out for the latest pick-up -- so we decided to put it to good use.
You'll need:
shredded paper (or crumpled paper would work too)
garbage and grocery bags
twine
masking tape
eBrush and siphon adaptor
Createx Airbrush paint
Hammered copper paint (spray can)
Patience ( you have to wait for the paint to dry)
Partially fill the garbage bag and two small grocery bags (our local markets are still using plastic) with shreds. loosely shape into a circle and tie the tops into a knot. The largest and middle bag knots should lie pretty flat.
Using the twine, shape the pumpkin by wrapping the twine over and under the bag. Tie off . Repeat for each "pumpkin."
Make sure your work space is protected -- I worked in the garage and have lots of cardboard to protect surrounding surfaces from any overspray. If you're sensitive to fumes and choose to use the copper spray, make sure the area is well ventilated.
TIP:
Allow at least 2 to 3 days for all your paint to dry on the plastic surface of the bags.
Wrap some masking tape around the knot of the smallest pumpkin to create a stem. Using the eBrush with the siphon adapter, spray the stem and the area where the twine is wrapped. Just to add a little depth to the colors you'll be spraying on top. Your paint may pool a bit and will not dry immediately. This is where the patience comes in. LET IT DRY completely before going to the next step.
(sorry, the pics for this step and the next did not turn out)
I wanted a bit of metallic - so I sprayed with some hammered copy spray paint -- since I didn't have any acrylic or enamel metallics for use in the eBrush on hand... LET IT DRY completely. We were experiencing some heat and humidity the days I was working on this, so the pumpkins had to sit for a couple of days..... can you see me pacing and checking to see if the paint was dry yet?
Once the metallic paint is fully dry, get your eBrush ready with some orange paint and spray to give the copper paint a hint or orange. Spray more in some areas and lightly in others. This adds to the look.
Use some E6000 to secure the pumpkins in a stack. You can spray with 2 coats of sealer for a little more weather proofing if your pumpkin stack will be directly exposed to the elements and not protected. Add some foliage, raffia or ribbons to finish.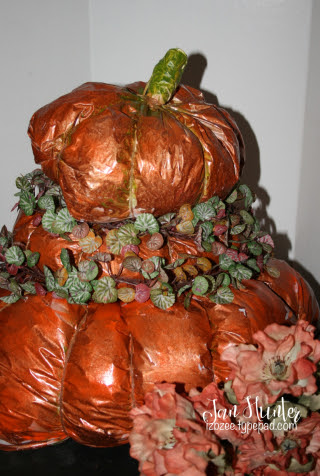 If you try this, and put your own spin on it, I would love to see the pictures! In the meantime, I hope you'll build in some creative time this week and every week! Nurture your creative soul!
Don't forget that the rest of the Craftwell team will be
blogging
for the next two weeks this month. Don't miss out on any of their creative projects.